Written By: Jack Orman
Directed By: Jonathan Kaplan
Original airdate: February 22, 2001
Prior Episode: Walk in the Woods
Subsequent Episode: Witch Hunt
Best remembered for: No. Wake me.
The director, Jonathan Kaplan, is responsible for the most dynamic episodes this season. His camera work is more deliberate and surer than any of the other directors. Only Mimi Leder from ER's beginnings rivals Mr. Kaplan's expert style.
The Crossing is one of those big EVENT episodes. The producers obviously spent a lot of money staging and shooting the huge train wreck. At its core, it is Luka's story. The other storylines fade away in comparison but we do see more of the Peter as mentor development with a parallel between his old student, Carter and his new protégé, the young med school applicant. My, how Peter has changed in his approach to teaching.
The original title of this episode was Golden Hour. That is the hour right after a trauma when care is most critical. Little did we know at the time that this episode aired what that title foreshadowed in the Kerry and Kim relationship. (See Witch Hunt.) If you had not read spoilers, you might have no idea how important this episode was in the Kerry/Kim storyline.
There is only one tiny scene between Kerry and Kim in this episode but it is shown twice and that turns out to be significant. The first time we see the girls they are way off in the background. It's not clear at all what has transpired but it is clear that Luka is watching them and is distracted by what he sees. At first it appears that Luka closes his eyes to listen to his patient's heart or perhaps nod off. However, upon closer viewing, you will see that Luka opens his eyes as the camera swings around to show us his point of view.
The extended version of Kerry and Kim's scene together comes later. Kerry has obviously paged her favorite psychiatrist for the girl who caused the train wreck - Shannon Wallace. Naturally, everyone who had seen A Walk in the Woods a couple of weeks prior to this episode was a little shocked at this turn of events. When last we saw the docs, one was in a cab and one was left standing out in the cold. It wasn't at all clear how these women might reconcile their differences and yet here they were this week, obviously involved in a more serious type of relationship. One had to rely on fan fiction to fill in the gaps.
I'm going to speculate that A Walk in the Woods was written to end ambiguously as the writers decided what to do next. I believe that the ER producers were trying to decide if they were going to extend the Kim Legaspi role. In that regard, The Crossing becomes a very significant episode. From that point on, Legaspi's storyline becomes a focal plotline, which extends through the season finale.
The scene shown between the two women is very short but lots of fun. Their interaction comes at the end of a VERY long and complicated shot. The first cut in that scene doesn't occur until Kerry says, "or the train wreck." After the key exchange, another extended tracking shot takes place. In other words, the camera only stops in that whole set up for Kim and Kerry. For a brief moment, there is respite from chaos and death and even movement and the camera work accentuates it.
The fun in the scene is that Kim and Kerry are on the same side. After last week's episode this is both refreshing and surprising. Kim appears to understand and support Kerry's need for discretion (closet-ness) and seems to be having fun with the clandestine nature of the relationship, a real departure from her pushiness the week before. This is also one of the few times after the intimate nature of their relationship began that we see Kerry respond favorably to Kim in public. We, as well as Kim and Kerry are lured into a sense of security about the relationship based upon the "No. Wake me" scene.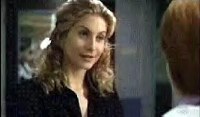 What do we learn in this episode?
| | | |
| --- | --- | --- |
| | • | Luka has at least noticed the interactions between Kerry and Kim. |
| | | |
| --- | --- | --- |
| | • | The audience knows that Luka knows. |
| | | |
| --- | --- | --- |
| | • | Kerry and Kim have reconciled and are smitten with each other. |
| | | |
| --- | --- | --- |
| | • | It appears the first place Kerry considers going home to is Kim's. |
| | | |
| --- | --- | --- |
| | • | It's pretty clear the women have an active sex life. |
What we don't know.
| | | |
| --- | --- | --- |
| | • | How did the girls reconcile after the night out with the lesbians? |
| | | |
| --- | --- | --- |
| | • | What is the current nature of commitment between the two women? |
| | | |
| --- | --- | --- |
| | • | Does Kerry keep Kim's key or is this a one-time thing? |
Kerry Moments
| | | |
| --- | --- | --- |
| | • | Great tight black pants in this episode |
| | | |
| --- | --- | --- |
| | • | Kerry in love exudes compassion all over the place (especially with Luka and Carter) |
| | | |
| --- | --- | --- |
| | • | Covering the amputee's body after Romano's little tirade |
| | | |
| --- | --- | --- |
| | • | Looking at the key and then patting her pocket as she departs from Kim |
Kim Moments
| | | |
| --- | --- | --- |
| | • | Yelling for Kerry before she sees her |
| | | |
| --- | --- | --- |
| | • | Reaching out to Kerry but not actually touching |
| | | |
| --- | --- | --- |
| | • | Discretely slipping Kerry the key |
| | | |
| --- | --- | --- |
| | • | "Oh, my." |
| | | |
| --- | --- | --- |
| | • | "No, wake me." (Accompanied by many blinks) |
Memorable Lines (besides the obvious)
Randi
How did your personality test go?
Mark
I scored somewhere between serial killer and talk show host.
Carter
What's next Rorschach? Spelling bee?
Mark
Swimwear competition, sudden death twister, who knows, maybe a chili cook off.
Rating: (out of five dropped Chalupas)
Kerry and Kim Goodness: 4 Short but VERY sweet
Overall Episode: 3.5 Liked it much better the second time around
Production Note:
This is Jack Orman's fourth year as a writer/producer on ER and his first running the show. Orman began writing for television in 1995 for the show JAG, where he quickly became a co-producer. ER hired Orman in 1997 as a writer/producer. Orman wrote the Season Six episode "All in the Family," which received the highest ratings for a television episode since the Seinfeld series finale. (This is the episode that deals with the stabbings of Carter and Lucy.)
Orman grew up in Paradise Valley, Arizona, earned his bachelor's degree in communications (film) from Loyola Marymount University and produced an international documentary throughout Asia before earning a master of fine arts degree from USC's Peter Stark Producing Program. He lives in Studio City with his wife, Lisa, and their two young sons.
This season Mr. Orman wrote: Homecoming, Sand and Water, The Dance We Do, Surrender (teleplay), Sailing Away, and Rampage
Chalupa Discussion Board
The Kerry and Kim Saga
Wigbee's Episode Summaries