SAVING GRACES
By Mary Murphy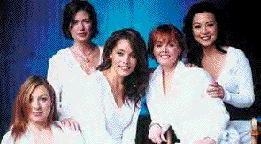 A surprisingly candid and affectionate chat with the women of ER on competition, lesbian love scenes and sisterhood on the set.
On ER, they are often up to their necks and bloody gloves in serious stuff, triumphantly saving lives — or tragically losing them — while they struggle with their own highly personal dramas. And while they may occasionally chance a smile, no one would ever confuse the leading ladies of ER with the wisecracking, fashionably attired cast of Sex and the City.
But take them off the set and out of those awful green surgical scrubs, and actresses Maura Tierney, Ming-Na, Michael Michele, Laura Innes and Alex Kingston are a great deal of fun, and the wisecracks fly despite the fact that they look like a chorus of angels in the filmy, all-white outfits they are wearing for a photo shoot. "We are pretending to be innocent," says Kingston. "It's an estrogenfest," declares Ming-Na, sitting in a makeup room.
Seven years since ER (NBC, Thursdays, 10 pm/ET) debuted as an instant hit, the series reigns as TV's most-watched drama. Tierney, Michele and Ming-Na (whose character returned after a five-year absence) were added two seasons ago, not long before Julianna Margulies, Gloria Reuben and Kellie Martin departed the series. This season, ER received a transfusion of heart and soul by increasing its emphasis on the female characters and presenting fresh, provocative storylines.
Thanks to new executive producer Jack Orman and a team of talented writers, the series packed multiple punches: Innes's Dr. Kerry Weaver struggled with her sexual identity; Ming-Na's character, Dr. Jing-Mei "Deb" Chen, made an agonizing decision to give up her baby for adoption; Tierney's nurse Abby Lockhart rode an emotional roller coaster with her bipolar mother, played by Sally Field; Kingston's Dr. Elizabeth Corday got pregnant just as her fiancé, Dr. Mark Greene (Anthony Edwards), faced possible death from a brain tumor; and in the season finale, Michele's Dr. Cleo Finch cut her hand on a vial filled with HIV-infected blood.
Next season, look for another estrogen infusion with the return of Sherry Stringfield, who left the show in 1996 during her third season as Dr. Susan Lewis. In Stringfield's final episode, Dr. Greene declared his love for Dr. Lewis, and the script left open the possibility that she would return. Look for Lewis to reawaken feelings in the now-married Greene.
TV Guide sat down with the women of ER and talked about their past year. Kingston, who was eight months pregnant at the time, had to miss the discussion. The rest of the women were by turns candid, affectionate and funny.
TV GUIDE: So, is there a sisterhood on the set?
MAURA TIERNEY: On my last series [NewsRadio] there were mostly men, and it is definitely a different feeling. I know if I am upset or frustrated I have someone to talk to who will be sympathetic and who will get it. In that sense, I feel really comfortable with the other actresses.
LAURA INNES: I feel very supported. I don't get the sense of competition. I don't feel like we are on a show where our value lies in our appearance or how sexy we are.
MING-NA: There is no "divadom."
TVG: One of the reasons must be the green hospital scrubs, white coats, masks, caps. They hide everything.
MING-NA: That's really part of it. We never get dressed up. Except for this photo shoot.
MICHAEL MICHELE: Also, the stories are more substantive than we usually see in primetime.
MING-NA: We just have to worry about storylines; we don't have to worry about make-up.
TIERNEY: I worry [laughs]. Usually on Thursday nights, about 11 o'clock.
TVG: Laura, you were the first of this new generation of women to come to ER. And there was a strong negative reaction to your character.
INNES: I think people did think she was a bitch, and probably some people still do. I never looked at her that way. And it was sort of good that I didn't, because it's never very interesting for a woman character to want to be likable.
TVG: In order not to make her so bitchy, they gave her a romance this season — with another woman [played by Elizabeth Mitchell].
INNES: John Wells [executive producer] and Jack Orman called me in over the summer. And halfway through I realized what they were talking about, and I thought, "What a great way to pull the rug out from under the character."
TVG: How do others feel about the affair?
MICHELE: I loved it. It was filled with real emotions — very thought-provoking.
MING-NA: I loved Weaver's discomfort with it. It was so natural.
TIERNEY: I thought it was really hot.
MICHELE: Just understand that the person who spoke that is the nymph of the show [laughs].
TVG: What was it like to do the lesbian love scene?
INNES: Well, it wasn't really a love scene. There was only a kiss and a lot of postcoital scenes. Kissing is always a little weird. But I'd kiss any of these girls.
Laura Innes
Unlike the often tyrannical Dr. Weaver, Laura Innes, 41, is a mentor on the ER set. Watch her as she counsels Gran Visnjic (Dr. Luka Kovac) or puts an arm around Maura Tierney's shoulder. While Weaver is dark and dogmatic, Innes is upbeat and cheery.
When Innes was first approached by the producers about her controversial story line involving an affair with another woman, she was stunned, then fascinated. In real life, she is married to actor David Brisbin, and has one child, Cal, 11.
"At first I worried that some people might think I was gay," she says. "And then my second thought was, "So what? I mean, isn't that the point, that it should be a nonissue to people?" Moving Weaver out of the closet "is real uncharted territory. It will be sticky picking up the pieces next season. And I love it."
Write TV Guide.com
Laura Innes and Elizabeth Mitchell in the Media